Crispy Fried Eggplant with Cornstarch recipe
The Ultimate Recipe for Eggplant Cornstarch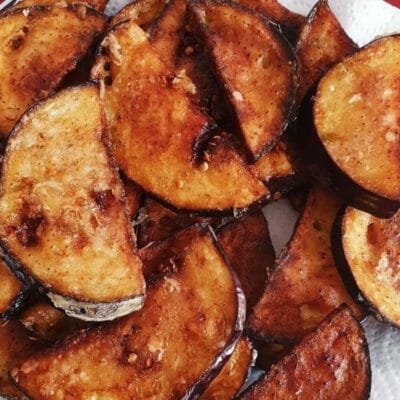 "Crispy Fried Eggplant recipe you'll ever have- be careful: HIGHLY ADDICTIVE"
---
Mali Meirov
Original Recipe Author
Turn the lone eggplant sitting in the fridge into the star of the meal with this perfect recipe that will have you hooked in no time!
This insane crispy fried eggplant with cornstarch recipe is the perfect appetizer your family will love and always be ready to snack on. Don't be surprised when you see everyone going back for seconds!
Light and surprisingly easy to prepare, this crispy fried eggplant makes for an amazing addition to any and every meal, taking all its flavors to a whole new level.
It is a definite must-try recipe!
Why this crispy fried eggplant with cornstarch recipe is A MUST-try:
Frequently Asked Questions: crispy fried eggplant with cornstarch recipe
Can it be air-fried?
Sure! Eggplant can be put into an air fryer. It is a great way to prevent the eggplant from absorbing too much oil. Simply brush some oil onto the eggplant instead of pouring the oil into a pan.
---
What's the purpose of corn starch?
The corn starch adds extra crispiness to the eggplant as it fries. Cornstarch can be used instead of flour because it is 100% starch, allowing a much crispier texture. Flour is only about 75% starch.

Read also: Cubed Roasted Eggplant Salad Recipe
---
Featured Review

"fried crispy eggplant Delightful taste in easy and quick preparation"
Dana
---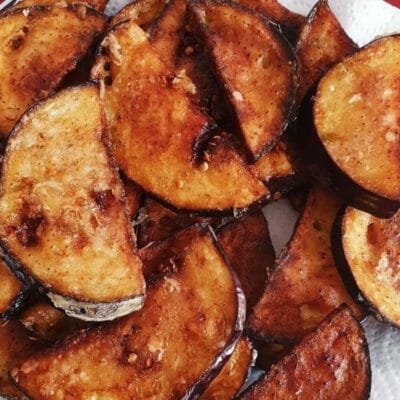 Crispy Fried Eggplant with Cornstarch recipe
The Ultimate Recipe for Eggplant Cornstarch
Rate
Ingredients
Ingredient of Crispy Fried Eggplant with cornstarch recipe
1

tbsp

cornflour

1

small / medium

eggplant

(about 250 grams )

1

tsp

salt

pepper

(optional)
Instructions
Cut each eggplant into rings. The rings should be about 1 cm thick. Then cut each ring in half

Sprinkle salt on the sliced eggplants for taste. Leave them in a colander, sieve, or another net-shaped flat surface for about an hour or so with a plate underneath. Allow any excess water to drain and pat them with a paper towel. You can let them sit for an hour to dry further and squeeze them with a second paper towel. Finally, transfer the eggplant slices to a dry paper towel

Pour some cornflour onto a plate. Dip the sliced eggplants in cornflour with salt, then flip them until they are completely coated on both sides

Put a little oil in a skillet or pan and heat it to medium to high heat

Then shallow fry on high heat (like you would do when frying schnitzel) until golden brown on both sides. Put the cooked eggplant on a tray lined with paper towels to absorb any excess oil

Serve warm or chilled
Crispy Fried Eggplant with cornstarch recipe Instruction
Tips
You can cut the slices into any shape you like, cubes, slices lengthwise, halves of slices, etc.

If you choose to refrigerate the cooked eggplant cornstarch, ensure the container is airtight and lined with absorbent paper.

Note that when eggplants are refrigerated, they lose their crispiness. If you want to restore some of the freshness, you can bake them on a baking sheet lined with baking paper for a few minutes at 180 degrees.

Eggplants oxidize easily, causing browning. Therefore, it is best to slice them just before starting the cooking process. To prevent premature browning, you may also apply some lemon juice to the sliced eggplant.

You can place the eggplant cornstarch slices in between bread to make a delicious sandwich, or you can eat the crispy fried eggplant on its own.
DID YOU MAKE THIS RECIPE?
We'd love to know how it turned out! Please let us know by leaving a review below. Or snap a photo and share it on Instagram; be sure to tag us @sharethecook
Read also: Recipe for Stuffed Aubergine with Beef
---
your time to shine:
Want a chance to feature on our site? comment down below or send us your pictures @sharethecook
"It was so crispy! I just made it."
Anat Sagron
Fan
"Crispy fried eggplant with cornstarch recipe was just perfect"
Hanna Mahdon
Fan
---
Oh, and we almost forgot!
This crispy fried eggplant with cornstarch recipe is a part of our Sides Series, Click NOW for more fun ideas you don't wanna miss!